Virtual reality can be a powerful learning and training tool on OSH principles.
TLDR:
Qatar's Ministry of Labour and the ILO are rolling out a virtual reality training for labour inspectors.
During the VR experience, which simulates a construction site, inspectors identify irregularities and answer questions about the most common occupational accidents.
Virtual reality experiences and gamified learning is a proven way to help people remember and internalize new knowledge.
This is an example of how technology can support Qatar's efforts to strengthen safety and health at work.
Today's labour inspectors don't need to put themselves in real danger during a training programme. Instead, they can learn new skills in a safe, yet realistic, virtual environment.
That's why Qatar's Ministry of Labour, the International Labour Organization, the ITCILO, and Immersive Factory teamed up to provide a customized, immersive and interactive virtual reality simulation for local labour inspectors.
We are excited to introduce technology to spice up the traditional classroom training. The gamification of the training will engage users in new and fun ways, and will help inspectors internalize knowledge on specific safety hazards.

Max Tuñón, Head of the ILO Project Office in Doha
The government is currently piloting the virtual reality module within its traditional training programmes.
What is it?
Virtual reality is a powerful learning and training tool. It provides opportunities for active learning – a proven way to prepare for risky or dangerous situations, in particular. In fact, studies show that people remember more of what they learn in VR environments, compared with traditional training.
The module simulates a construction site and trains users on common safety and health issues.
In this case, we designed a virtual reality environment that recreates a construction site and common safety and health challenges in Qatar. Equipped with a VR headset, labour inspectors can explore the site with life-like accuracy.
Their task? Detect and correct irregularities, hazards, and high-risk behaviors. At the end of the course, the labour inspectors are better positioned to identify, react to, and prevent OSH issues.
How does it work?
Realism
The VR module simulates an accurate replica of a typical construction site in Qatar. Everything – the sounds, the sun, the machines, the virtual characters – are customized according to participants' needs and local realities.
Guidance
Before the training starts, the VR module guides participants through a quick tutorial on how to navigate the virtual environment. For example, participants learn how to use the camera to capture the irregularities, dangers, and risks that they identify.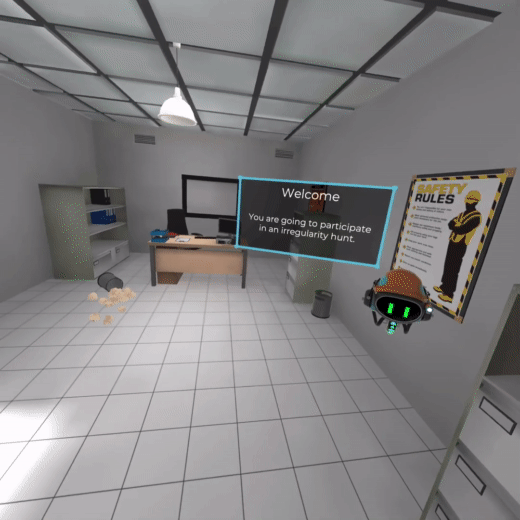 Quizzes
During the training, participants walk around the environment and search for anything irregular or unsafe. When they find something, they document it by taking a picture and then test their knowledge by completing a short quiz. The questions are created by ILO Qatar and experts in the field.
Levels
Trainers can select from a series of predefined difficulty levels, which changes the amount of time participants are given to identify and respond to irregularities, as well as the number and types of irregularities shown.
Review
At the end of the module, participants can review the irregularities that they missed and their incorrect answers.
How can I get started?
This ready-made module can be replicated and used by other governments, institutions, and organizations. Some elements, such as language and objects/machinery, are customizable.
The ITCILO is open to collaboration on new VR modules on similar topics. For more information, contact us (learninginnovation@itcilo.org).