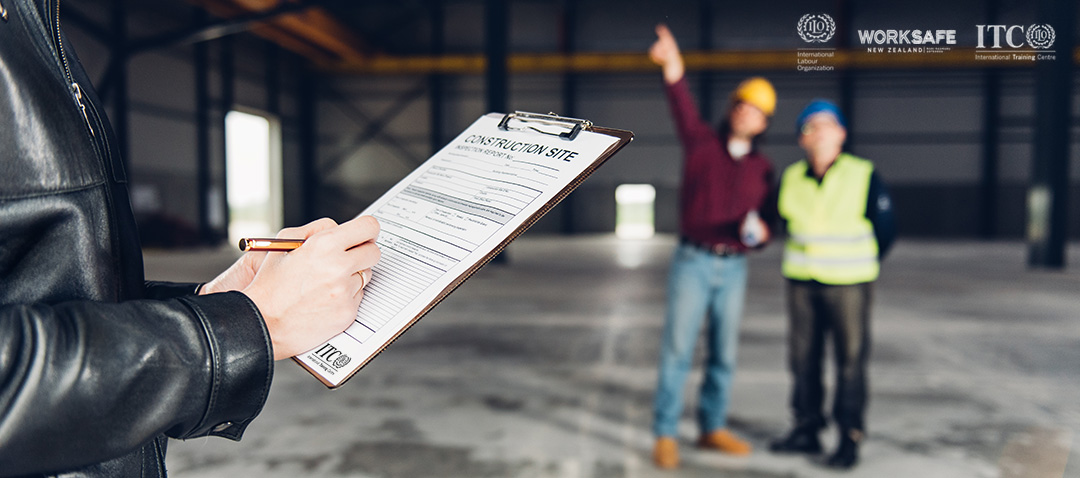 PACIFIC SUB-REGIONAL FOUNDATION SKILLS TRAINING FOR OSH AND LABOUR INSPECTORS
Virtual Reality Session
Pacific Sub-Regional Foundation Skills Training for OSH and Labour Inspectors
The future of virtual reality has arrived already and is gradually moving beyond its gadget stage. With the introduction of Ocolus rift the access to immersive learning and simulation experiences has been widely opened. It looks likely that by 2020 computer systems that deliver convincing immersive reasonably reliable virtual reality will cost no more than a big screen television does not. The real-world-simulations make it difficult to distinguish what is still real and what virtual. In this awareness raising session we will explore the potential of this new technology in the world of work and more in particular apply a VR perspective to OSH and Labour inspectors.
Objectives
To explore the potential of virtual reality in OSH and labour inspection contexts.
To test out a basic VR device.
To brainstorm on future potential VR projects in the region.
Facilitators:
Tom Wambeke, ITC-ILO
Elena Tagliati, ITC-ILO
Edward Bernard, ILO
24th November 2016 | SESSION OUTLINE (2 hours)
PART 1: Welcome and introduction (20 min).
A live webinar or a recorded screencast will be shared which introduces the topic and the relevance of virtual reality for OSH and Labour Inspections.
PART 2: Jigsaw exercise on VR for OSH (40 min).
The jigsaw methology will be applied to this phase.
The group will be divided in 3 separate groups and each group will receive one case study.
Case study 1 (group 1):
Improving occupational safety and health in SME's with the help of virtual reality and simulations.
Reference: imoshion
Case study 2 (group 2):
Reference: Virtual reality in occupational safety and health. An IFA service 

Case study 3 (group 3):
Investigating virtual reality headset applications in construction.
Reference: Investigating Virtual Reality Headset Applications in Construction 

Each group gets 15 minutes to read the selected resource and answer the following three questions:
Can you synthesize in your own words what you have read?
What are the key highlights in this article?
What could be useful in the area of OSH and Labour Inspection in this particular region?
After this preparation phase new groups will be composed which consist of one member of each group (1-2-3). The result is we have now mixed groups of three different case studies that can exchange the answers on the different questions and discuss the potential of VR in general. Give participants for this exercise 25 minutes.
PART 3: Immersive Learning Experience (30 min).
Each participant will receive a VR Cardboard. They are requested to take their smartphones (that should be connected to the wifi network). Participants are allowed to select one of the following 3D movies.


PART 4: Debriefing and brainstorming (25 min).
Open discussion with participants to discuss the different VR ideas and classify them according to the SAMR model.
Brainstorming exercise what potential applications could be developed in the region after this awareness raising session and explore what are the possibilities.